Written by
Umair Saeed
on
Stern-Brocot tree is a tree data structure whose vertices correspond to the set of non-negative rational numbers. Thus, this tree provides a very elegant way for constructing the set of fractions m/n, where m and n are relatively prime. To construct the tree, the basic idea is to start with two fractions (0/1, 1/0) and then repeat the following operation:
Insert (m+m')/(n+n') between two adjacent fractions m/n and m'/n'
The first step gives us the entry 1/1 between 0/1 and 1/0. Similarly, the 2nd step gives us two more: 0/1, 1/2, 1/1, 2/1, 1/0.
Continuing on like this results in an infinite binary search tree which preserves the usual ordering of rational numbers.
The figure below shows the 1st 4 levels of the Stern-Brocot tree.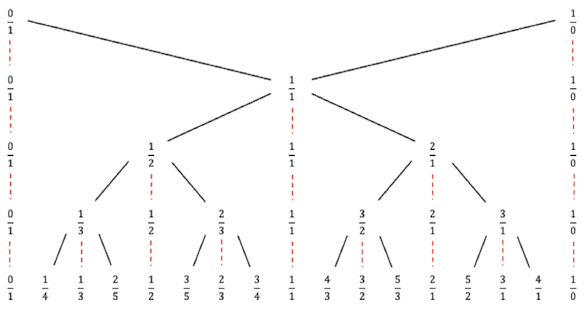 Finding the Path to k in Stern-Brocot Tree
The path from the root of the tree to a number k in the Stern-Brocot tree can be found using binary search. At each node, k will either be in the left half of the tree, or the right half. We continue down the left or right subtree until we finally find k.
Initialize the left fraction L to 0/1 and right fraction R to 1/0
Repeat the following until k is found:

Compute the mediant M (which is (m+m')/(n+n') )
If (k>M), then k is in the right half of the tree. L:=M and continue.
Else If (M>k), then k is in the left half of the tree. R:=M and continue.
Else k=M, terminate search.
Implementation
There's a couple of things to tackle in our implementation. First, I need an easy way to represent fractions, so I create my own SternBrocotFraction class. I deliberately chose to make it very specific to this algorithm because I needed a special way to handle the fraction 1/0 (which by definition is greater than all other rationals).
Secondly, I needed a good way to represent the path from the root of the tree to k. I do this by using a StringBuilder, and at each step I append either the letter L or R depending on which sub-tree we take. When the search is finished, this gives us a string representation of the path from the root of the tree to the number k. This approach is similar to the approach advocated by ACM Programming Competitions for the "Stern-Brocot Number System" problem.
Here's the code to find path to a number k:
package

 com.umairsaeed.algorithm

;





public

 

class

 

SternBrocotPath

 

{


  

private

 

static

 

final

 

char

 LEFT_SUB 

=

 

'L'

;


  

private

 

static

 

final

 

char

 RIGHT_SUB 

=

 

'R'

;



  

public

 String 

findPathTo

(

SternBrocotFraction f

)

 

{


    SternBrocotFraction L 

=

 

new

 SternBrocotFraction

(

0

,

 1

);


    SternBrocotFraction R 

=

 

new

 SternBrocotFraction

(

1

,

 0

);



    StringBuilder results 

=

 

new

 StringBuilder

();


    SternBrocotPath

.

find

(

f

,

 L

,

 R

,

 results

);


    

return

 results

.

toString

();


  

}



  

public

 

static

 

void

 

find

(

SternBrocotFraction f

,


      SternBrocotFraction L

,


      SternBrocotFraction R

,


      StringBuilder results

)


  

{


    SternBrocotFraction M 

=

 L

.

add

(

R

);



    

if

 

(

M

.

compareTo

(

f

)

 

<

 0

)

 

{


      L 

=

 M

;


      results

.

append

(

RIGHT_SUB

);


      SternBrocotPath

.

find

(

f

,

 L

,

 R

,

 results

);


    

}

 

else

 

if

 

(

M

.

compareTo

(

f

)

 

>

 0

)

 

{


      R 

=

 M

;


      results

.

append

(

LEFT_SUB

);


      SternBrocotPath

.

find

(

f

,

 L

,

 R

,

 results

);


    

}


    

return

;


  

}




}



The special SternBrocotFraction class is:
package

 com.umairsaeed.algorithm

;





public

 

class

 

SternBrocotFraction

 

implements


        Comparable

<

SternBrocotFraction

>

 

{


  

private

 

int

 numerator

;


  

private

 

int

 denominator

;



  

public

 

SternBrocotFraction

(

int

 numerator

,

 

int

 denominator

)

 

{


    

if

 

(

denominator 

<

 0

)

 

{


      numerator 

*=

 

-

1

;


      denominator 

*=

 

-

1

;


    

}



    

this

.

numerator

 

=

 numerator

;


    

this

.

denominator

 

=

 denominator

;


  

}



  

public

 

double

 

doubleValue

()

 

{


    

if

 

(

this

.

denominator

 

==

 0

)

 

{


      

return

 Double

.

MAX_VALUE

;


    

}

 

else

 

{


      

return

 

(

double

)

 

this

.

numerator

 

/


            

(

double

)

 

this

.

denominator

;


    

}


  

}



  

public

 SternBrocotFraction 

add

(

SternBrocotFraction other

)

 

{


    

return

 

new

 SternBrocotFraction

(


        

this

.

numerator

 

+

 other

.

numerator

,


        

this

.

denominator

 

+

 other

.

denominator

);


  

}



  

public

 

int

 

compareTo

(

SternBrocotFraction other

)

 

{


    

if

 

(

this

.

doubleValue

()

 

<

 other

.

doubleValue

())

 

{


      

return

 

-

1

;


    

}

 

else

 

if

 

(

this

.

doubleValue

()

 

>

 other

.

doubleValue

())

 

{


      

return

 1

;


    

}


    

return

 0

;


  

}




}



Finally, some test code to exercise my class:
package

 com.umairsaeed.algorithm

;





public

 

class

 

SternBrocotTester

 

{


  

public

 

static

 

void

 

main

(

String

[]

 args

)

 

{


    testSternBrocotPath

();


  

}



  

public

 

static

 

void

 

testSternBrocotPath

()

 

{


    SternBrocotPath t 

=

 

new

 SternBrocotPath

();



    SternBrocotFraction f 

=

 

new

 SternBrocotFraction

(

5

,

 7

);


    System

.

out

.

println

(

t

.

findPathTo

(

f

));



    f 

=

 

new

 SternBrocotFraction

(

19

,

 101

);


    System

.

out

.

println

(

t

.

findPathTo

(

f

));



    f 

=

 

new

 SternBrocotFraction

(

977

,

 331

);


    System

.

out

.

println

(

t

.

findPathTo

(

f

));



    f 

=

 

new

 SternBrocotFraction

(

1049

,

 7901

);


    System

.

out

.

println

(

t

.

findPathTo

(

f

));


  

}




}